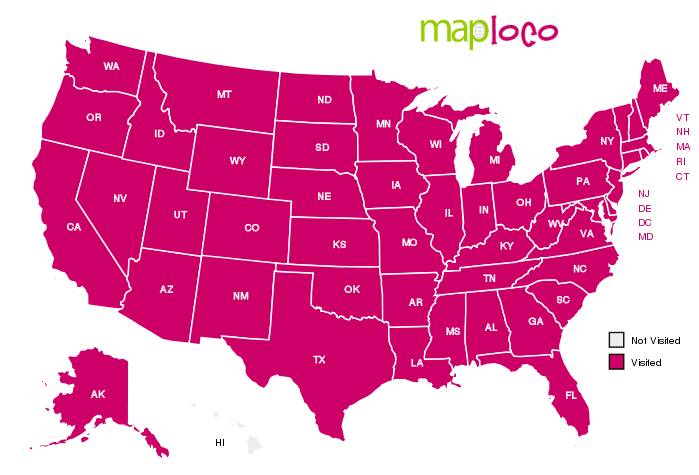 Create Your Own Visited States Map
This is a nice map. Hawaii, I think you are calling me!
But seriously, what counts as "visited"? Quite a few of these states I've lived in for months or years. Then there are states like Oklahoma, which I've only ever driven through or possibly spent a night in a motel. No great memories have ever been made in Arkansas or Alabama.
Regardless, it's nice to know I've been around.
There was an international one of these drifting around the Internet last year, and a few of my
Totem
friends filled it out, which was insane!! Greg and I have spent good amounts of time in Europe and Canada, and only briefly touched on other parts of the world. (Greg more than me - he's worked in Kenya, China, India, and on cruise ships all over the place). But many of my circus friends have spent extensive amounts of time in Asia, South America, Australia, and Eastern Europe.
This is all on my mind right now because
Totem
is in Australia. It's hot and sunny in Sydney, and my Facebook feeds are full of pictures of my friends on beautiful beaches.
Here in Philadelphia we have pulled out flannel sheets, space heaters, wool sweaters, hats and gloves, and we are still shivering in our boots. The temperatures this week aren't getting much above freezing. It's a drafty old house, and the only ones who don't seem to mind it are Koonan and Nanook!